It's always time to celebrate when a  rescue dog finds a fur-ever home.  One Chi Pin, Sir Winston, and his owner have found that they are the perfect match!
Why Adopt a Rescue Dog?
Rescue dogs are great pets.  Many dogs find their rescuers when a person comes to an animal shelter.  It is true that you do not choose the dog; the dog chooses you.  When that happens, he or she will melt your heart, and you will know that you were meant to be together.  In addition, adopting an adult dog from a shelter has many practical advantages.  Adult dogs are often house trained,* to some extent, and if not, it is quicker and easier to house train an adult dog than a puppy.  First, potty training is much quicker.  A puppy must be about 1 year old before the his or her muscles have developed enough to "hold it."  Before that time, a puppy is physically unable to be potty trained.  An adult dog, on the other hand, is already physically ready to be potty trained, and just needs to be taught that outside is the place to go.  In addition to potty training, other "house rules" may be easier to teach to an adult dog.  For example, an adult dog typically chews much less than a puppy, and thus, you may be able to save some of your furniture from becoming a chew toy by adopting an adult dog.
*Note:  I use the term "house training" to include teaching all behaviors that you will expect of your dog while he or she is in the house, and potty training is only one of those behaviors.  Other aspects of house training include teaching your dog to chew only appropriate toys, stop barking when commanded, not jump on people, and any other rule you want to teach and are willing to enforce.  In other words, you must teach the "house rules."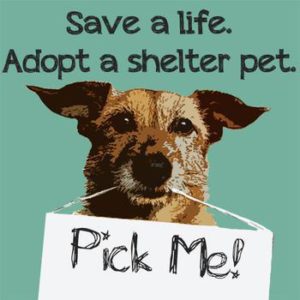 I have loved spoiling my Chi Pin, Nano, because I can spoil him in a way that only a rescue can be.   Four years ago, Nano selected me at the animal shelter.  He had been rescued from a puppy mill, and when I brought him home, it was obvious that our home was completely different than anything he had ever experienced.  Previously, throughout his entire life, he had to struggle just to survive.  He settled into our home quite nicely, though, and now he is completely at ease at our house.  He is part of a family, which was a concept that he did not know existed prior to coming to us.  Although he does have to follow rules and use good manners, I lavish attention, play time, snuggles, and love on him at every opportunity.  It is heartwarming to watch him be able to enjoy it more each day.
Say Hello to Sir Winston
Three weeks ago, Sir Winston found his fur-ever home.  Like most rescues, his exact breeding history is unknown, but as you can see, Min Pin and/or Chihuahua breeds are likely in his background.  His new owner said she feels lucky to have found this sweet boy, but I know that Sir Winston is a lucky dog, too.  Enjoy your new home, Sir Winston!
Read More on Min Pin Mania
Why Rescue?  Why Rescue a Dog: A Miniature Pinscher Story tells one story that illustrates the desperate need for adopting rescue dogs.  Read about the transformation of a Chi Pin, Nano, from a malnourished, sick little dog who was brought to an animal shelter after living at a puppy mill into the healthy happy dog he is today.
Why Rescue a Dog: A Miniature Pinscher Story also gives a brief introduction to the debate surrounding backyard breeders and the comparison of them to puppy mills.
So You Think You Want a Miniature Pinscher? A major reason that dogs are surrendered to animal shelters is that owners do not do their homework before adopting a dog, and the dog breed the owner selected was not a good fit for their family and lifestyle.  Researching the breed you are considering adopting is a key part to successful dog ownership.  So You Think You Want a Miniature Pinscher? points out many characteristics of the Miniature Pinscher breed.
Life with a Chi Pin describes what happens when you cross the "fearless animation and complete self-possession" of a Miniature Pinscher with the "saucy" expression of a Chihuahua.  Spoiler alert:  Watch out world!  Chi Pins will exhaust your body and win your heart.
Do You Rescue?
Tell us your dog's rescue story.  We would love to help welcome your dog to his or her new home.