Min Pin or Chihuahua?
Because of their similar size and sometimes similar coat color, MIniature Pinschers are often mistaken for Chihuahuas. However, Miniature Pinschers are very different than Chihuahuas. The Chihuahua breed is an ancient breed (circa 5th century A.D.) from Mexico and South America while the Miniature Pinscher originated half-way across the world  in Germany and much more recently (mid-19th century A.D.).
Nano the Chin Pin
To the left, you see Nano, a Miniature Pinscher-Chihuahua mix, or a Chin Pin, as I affectionately call him. He has several features in common with one breed or the other. Later in the post, I detail each Min Pin characteristic and compare it to that of the Chihuahua, but here are just a few of Nano's characteristics that lead me to believe he is a Chin Pin:
Min Pin features:
The ears are erect. Chihuahua ears are set at a 45 degree angle.
His proportion is "square." The body of a Chihuahua is longer than its legs.
Chihuahua features:
His eyes are wide set and round. Min Pins have oval-shaped eyes.
His skull is slightly rounded, or "apple" shaped. Min Pins have a sloped forehead. His rounded skull can be seen in the picture below.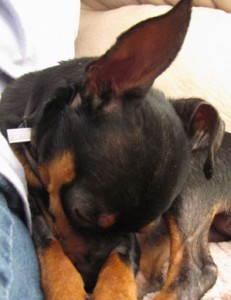 Features of both:
Nano's size is bigger than that of a Chihuahua and smaller than that of a Min Pin. He weighs in at 8.5 lbs and is approximately 8 in. high.
Nano is energetic to say the least. Both MIn Pins and Chihuahuas have this characteristic, and I think Nano got a double dose of those genes!
Don't Call Me a Chihuahua
I love all dogs, including MIn Pins and Chihuahuas. However, our first miniature pinscher, Zeus, took offense to being called a Chihuahua. We were at a party and standing outside on the porch with a group of 10-15 people. Zeus was being the perfect gentleman. Then, one of our friends came out the back door and said, "What is that? Is that a Chihuahua?" Instantly, Zeus started barking at him in his most ferocious tone.
 Though not irrefutable, I truly believe that Zeus picked up on the man's attitude and tone of voice. I'm not sure he knew the man was making fun of him, but Zeus certainly took the man's actions and tone as agressive. Zeus let our friend him know that he didn't appreciate being called a Chihuahua.
Miniature Pinscher Origins
The Miniature Pinscher is part of the German Pinscher family, which contains both small and large dogs. However, Miniature Pinschers are not miniaturized Dobermans. The Miniature PInscher is actually an older breed than the Doberman Pinscher. It is generally believed (Land, 2006) that the miniature pinscher has been in existence since at least the 1800s while Louis Doberman bred the first Doberman pinscher in 1890 (Land, 2006). Thus, miniature pinschers are not "miniature Dobermans" at all.
Miniature Pinschers are not Miniature Dobermans
Both are pinschers, but Min Pins are an older breed
As stated above, Miniature Pinschers originated in Germany from the Dachshund, Italian Greyhound and other pinschers like the German Pinscher. Earlier terms for the MIniature Pinscher are Zwerg Pinscher and Reh Pinscher. "Reh" refers to a small red deer, which some say the miniature pinscher resembles. The video below shows a red Mn Pin bounding like a deer.

A 3 year old MIniature Pinscher bounds like a Reh deer. Video Credit: Cristie Cray on You Tube
Breed Characteristics
The American Kennel Club breed standards are widely used in the U.S. to describe the "ideal" dog of a particular breed. Breed standards can also help pet owners determine the breed(s) of his or her dog. A dog's ancestry is often not known if the dog was a rescue or is a mixed breed. I don't mean to imply that mixed breed dogs don't make good pets. Most of my dogs have been mixed breeds, and I think mine are the best dogs in the world, except yours, of course. However, it is important to know, or have a good guess, of the breed of your dog because different breeds have different needs. Below is a description and discussion of the AKC Breed Standard of the Miniature Pinscher.
General Appearance: Miniature pinschers are described as: "…Characteristic traits are his hackney-like action, fearless animation, complete self-possession, and his spirited presence." (For details about the hackney-like gait, see the related blog post, Hackney-like Gait of a Miniature Pinscher.)
Size, Proportion, Substance: To meet AKC breed standards, miniature pinschers must be between 10 in. and 12.5 in. in height, when measured from the withers. The MIniature Pinscher is a "square" dog in proportion of body length to height. For example, if the height is 11 in., then the body should also be 11 in. This in contrast to the Chihuahua, which has a body longer than its height.
Head: "Skull appears flat, tapering forward toward the muzzle. This is in contrast to a Chihuahua's head, which should have an "apple" skull where the forehead is rounded."
"Ears set high, standing erect from base to tip." While the Miniature Pinscher's ears are set high and stand erect, a Chihuahua's are set at a 45 degree angle.
Colors: Several coat colors are recognized for Miniature Pinschers.
Solid clear red
Stag red (red with intermingling of black hairs)
Black with rust markings (informally known as black and tan)
Chocolate and rust
Don't Buy Min Pins with Dilute Coat Colors

Blue and Fawn Coat Colors are Associated with Genetic Disease
Disqualifying Colors: "Any color other than those listed above" is a disqualification, especially the "dilute" colors blue and fawn. Blue (dilute black) and fawn (dilute red) coat colors are associated with a genetic disorder, color dilution alopecia, and breeding dogs with these coat colors will increase the occurrence of the disease within the Min Pin population. Breeding dogs with dilute coat colors certainly is not congruent with the "betterment of the breed," which is what any reputable breeder tries to achieve.
Other disqualifying coat markings include the following: "Thumb mark (patch of black hair surrounded by rust on the front of the foreleg between the foot and the wrist; on chocolates, the patch is chocolate hair). White on any part of dog which exceeds one-half inch in its longest dimension."
Gait: To summarize the breed standard, the Min Pin gait is proud and strong. A high-stepping hackney-like action adds to the regal look that lends to the nickname "King of Toys." To see more about the hackney gait, see the related post, The Hackney-like Gait of a Miniature Pinscher.
Temperament: "Fearless animation, complete self-possession, and spirited presence." I'm sure that most Min Pin owners can identify with this description of the Min Pin temperament. I am going mention another trait of Miniature Pinschers that is not always desirable: independent thinking. Miniature Pinschers were bred as stable ratters and often left to their own devices much of the time. Thus, when your Min Pin uses its independent thinking to entertain itself in your house, chaos can ensue.
[yop_poll id="4″]
Great Pets
Chihuahuas, Min Pins, and Chin Pins all make great pets, as I can personally attest. Often, determining your pet's breed background is just informational to you, but it can also help in understanding your pet's perspective and the way it thinks, which can aid in training and increase your enjoyment of your dog.  In addition, some breeds are more prone to certain diseases than others. Thus, knowing the breed can prepare owners to watch for certain symptoms.
Reference
Land, Bobbye. The Miniature Pinscher. Consulting Veterinary Ed. Wayne Hunthausen, D.V.M. Terra Nova Series. New Jersey: T.F.H. Publications, 2006