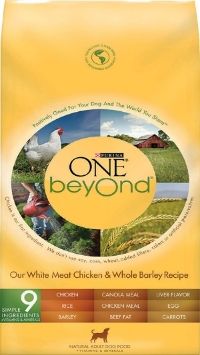 Purina ONE recalled. Photo: from FDA.gov
Nestle Purina PetCare Company issued a voluntary recall of a limited number of bags of Purina ONE beyOnd Our White Meat Chicken & Whole Barley Recipe Adult Dry Dog Food. The recall was issued August 30, 2013. One bag of dog food produced in that run was contaminated with Salmonella, which is a bacterium commonly found in unpasteurized eggs and milk products. Below is a description of the bags being recalled:
| | | |
| --- | --- | --- |
| Bag Size | "Best By" Date & Production Code | UPC Code |
| 3.5 lb. | OCT 2014 31071083 | 17800 12679 |
Contaminated Dog Food Threat to Humans and Animals
Salmonella is a common bacterial pathogen infectious to both humans and dogs. Dogs can get sick from eating dog food contaminated with Salmonella, and humans can get sick from just handling it. Salmonella also occurs in many foods produced for human consumption. According to Medline Plus, "Salmonella occurs in raw poultry, eggs, beef, and sometimes on unwashed fruit and vegetables." Humans usually avoid getting sick by cooking their foods. However, feeding animals foods from the list above without cooking it first may expose them to Salmonella.
Symptoms
Symptoms in Humans include the following:
nausea,
vomiting,diarrhea,
abdominal cramping
fever
Most cases resolve without treatment, but antibiotics are needed in some cases. For more information, visit the Centers for Disease Control article on salmonellosis.
Symptoms in dogs and similar to those in humans and include the following:  decreased appetite, fever and abdominal pain. Salmonella also affects cats, according to petMD. If your dog or cat exhibits any of the above symptoms, contact your veterinarian. Also be aware that pets with Salmonella can also act as carriers of the disease.
If your pet has consumed the recalled product and has these symptoms, please contact your veterinarian.
–NPPC Press Release
Implications
While this recall was relatively small in terms of both amount of dog food affected and little impact on the health of humans or animals, Salmonella is a common contaminant of both human and pet food. Frequent hand washing and a vigilant eye on the news for both human and dog food recalls can reduce your chances of contracting a food-borne illness.