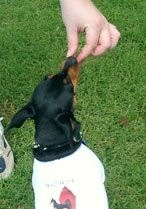 To say that Miniature Pinschers can be a handful is an understatement, as any Min Pin owner knows. Miniature Pinschers are headstrong, energetic, and think for themselves. However, Miniature Pinschers can be trained to be calm, well-disciplined dogs. Here, I discuss training Min Pins, but the same strategy can be applied to all dog breeds or almost anything with a pulse, e.g., your spouse, children, extended family, friends, or people in general.
When teaching a dog a command, first one trains the dog to associate the behavior with the word. For some dogs, this is all that is necessary, and the dog will obey the command every time. For other dogs (like Min Pins), a second step is necessary: Make the dog obey every time just because you say so. This can be very frustrating, but with the steps outlined in later posts, it is possible, and even enjoyable.
Min Pin training: it's so easy in the beginning
In this video, a Min Pin owners demonstrates the the intelligence of the Miniature Pinscher–learning what commands mean in a short time.
Jack – Red Miniature Pinscher
What he hasn't encountered yet is convincing the Min Pin that it must do the command just because the owner says so.
Min Pins, especially puppies, can be a handful. To have a well-behaved Miniature Pinscher, training advice can be especially helpful. Obedience classes, DVDs, and reading can all be sources of good information.